As a young, fast-growing and diverse community, North Africa's population is set to grow by a further 15% over the next decade and exceeding 285 million by 2030 according to ABiQ's forecasting tool.
To support this growth, not only will there be a drive for all critical infrastructure but businesses and organisations both inside and outside of Africa will also need to support the development of sectors like health, education, retail, hospitality, telecoms etc.
Based on this population increment, let's take a look at some of the more prominent sectors.
Electricity
We predict that new electricity demand will require an additional 11GW installed capacity over the next 10 years. There are different factors to consider in this growth depending on the market.
Morocco is probably the world leader, let alone a leader on the continent, where solar power is already the major contributor to its energy supply.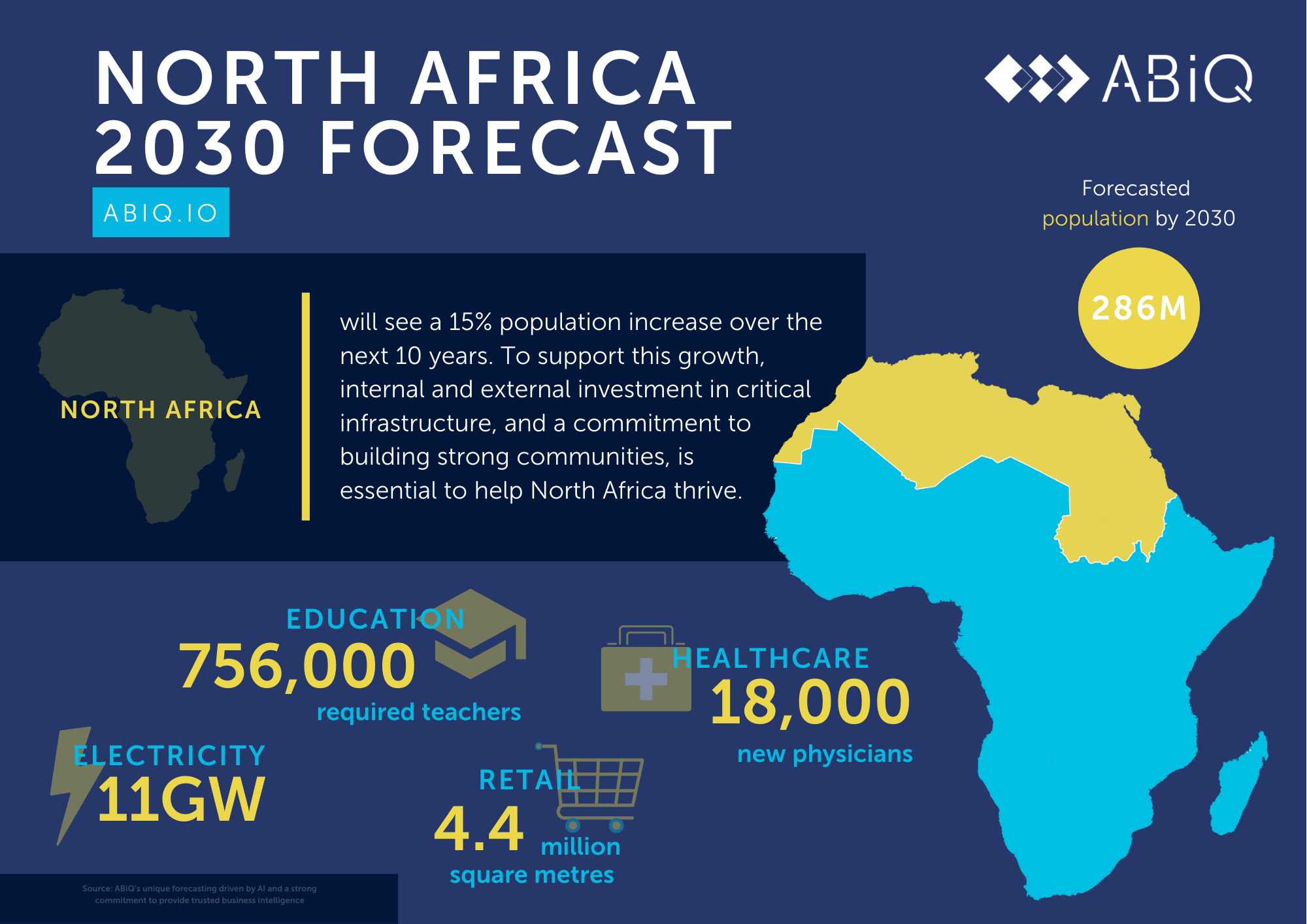 Egypt has invested heavily in utilising its gas reserves to fuel electricity generation. After years of shortages, it now has surplus capacity and will use this buffer to develop alternative energy sources.
After almost a decade at war, once some form of stability returns in Libya, it will need to invest heavily to make up for lost ground.
Algeria is exporting the bulk of its natural gas to fuel Europe and will have to invest in renewable energy sources to sustain its current foreign income earned from gas sales.
Retail
Retail space will increase by 4.4 million square metres, making room for larger supermarkets and retailers to expand across the region. This also opens up opportunities for home-grown and entrepreneurial businesses to enter the retail space.
Education
We predict that by 2030m, there will be approximately 65.7 million children attending school. If we assume a ratio of 30 children per teacher, that would mean the North of Africa alone will need 756,000 new teachers over the next decade.
Healthcare
To support the health care system, approximately 280 new hospitals will be required with 18,000 new physicians to maintain the current standard of living.
Its current GDP is estimated at US $630m, approximately $2,800 per capita. North Africa's economies are driven by agriculture and energy makes up the bulk of its exports.
As a region, North Africa has some of the largest natural gas and oil deposits in Africa and as a result, the most resource to invest in developing infrastructure.  Developing and exploiting these reserves over the next decade will be the main driver for most of the North African countries. With global demand for hydrocarbons set to peak early in the 2030s, this resource will lose its ability to fund investment.